When:
 Saturday, February  17, 2018
8:30 AM – 2:30 PM (see schedule below)
Where:
Pleasant Grove High School
700 E 200 S
Pleasant Grove, UT 84062
(click address for map)
Price:

$8 Pre-Sale Online each (with school discount code) for everyone 3 and older
when purchased by Thursday, February 15, 2018 (get tickets below)
$10 when purchased at the door
(Detailed schedule is below)
THIS TICKET IS ONLY GOOD FOR SATURDAY ENTRANCE. THIS TICKET WILL NOT BE ACCEPTED ON FRIDAY.
DANCERS MUST HAVE A TICKET TO DANCE & SPECTATORS (3 yrs & older) MUST HAVE A TICKET TO WATCH.
Please support the Elementary Ballroom program by purchasing tickets for your STUDENT, all your family, and friends online before the event.
If you do not buy your pre-sale tickets online before Thursday, Feb 15th by 11:59 pm, then you will need to buy tickets at the general entrance door for $10 per person (including your dancer).
We are thrilled to host this event and hope you will invite your family and friends to join us.
Please note that the music and crowd will be very loud. Earplugs are recommended for anyone who may be sensitive to high noise levels.
IMPORTANT:  These tickets may be purchased ONLY for students who participate in the Elementary Ballroom program and their family/friends who are watching the event.  DISCOUNT TICKETS ARE NOT FOR FAMILY MEMBERS DANCING IN OTHER EVENTS AT THE COMPETITION. Please respect this guideline as we appreciate UVU working with us for a discounted price for your students.

Online ticket sales are now closed. Tickets can be purchased at the door.
Please bring a paper or electronic version of your ticket with you to enter the event
Detailed Schedule
8:00 DOORS OPEN
8:45 LEVEL 1 Students Line up area – CAFETERIA
9:30 LEVEL 1 TEAM MATCH
10:45 Danzinskule Newcomer Cha Cha – LEVEL 1 ONLY – starts with Round 1, 2, 3 then Quarter Final, Semi Final & Final
11:45 LEVEL 2 students line up area – CAFETERIA
12:30 LEVEL 2 TEAM MATCH
2:00 Elementary Newcomer Swing – starts with Round 1, 2, 3 then Quarter Final, Semi Final & Final – awards around 3:55
For the full UVU competition schedule visit UtahBallroom.com
Please note
There is a special entrance for Danzinskule – Elementary Ballroom Team Match dancers and family/friends. Please see the map below for the Danzinskule entrance: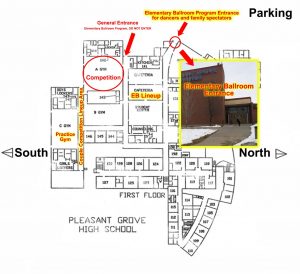 (click for larger version)
Danzinskule Entrance